VOLLEYBALL (GIRLS/BOYS)
About us
Dig, Set & Spike to Victory! 
"Ace!" the thunderous cheer roared as the players circled round each other, put their hands in the center and jumped for victory. This group cheer gives them the adrenalin rush as they soar to greater heights, striking the opponent zealously. We have instilled in our players the 'Never Say Die' attitude. 
Ace, Ace, Ace! We're going to pump you up!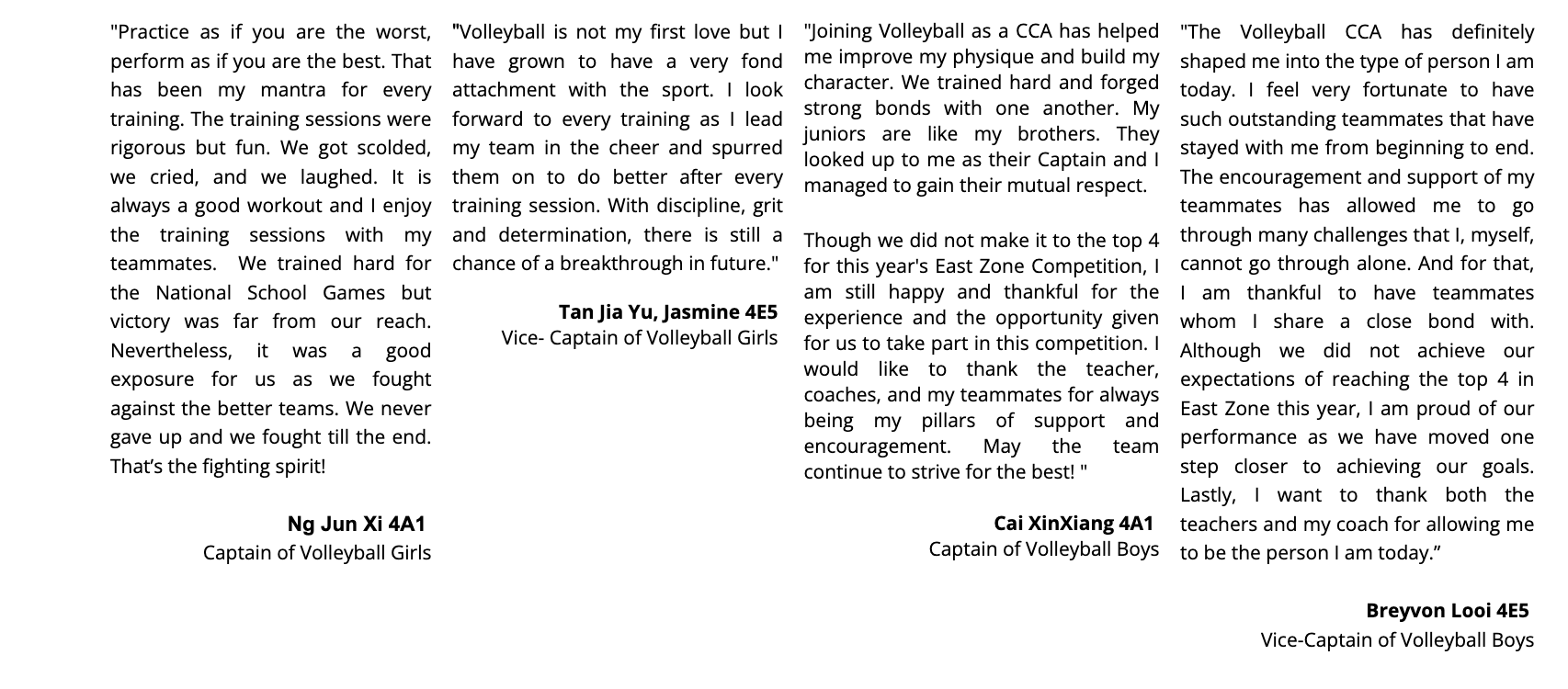 Highlights
Our 'C' Boys Volleyball team won the 3rd place in the East Zone National School Games in 2022
Our 'C' Boys managed to compete in the East Zone National School Games (Nationals) in 2022
Schedule
Boys Team
| Day | Time | Venue |
| --- | --- | --- |
| Monday | 03.00pm - 06.00pm | Integrated Sports Hall |
| Thursday | 03.00pm - 06.00pm | Integrated Sports Hall |
Girls Team
| Day | Time | Venue |
| --- | --- | --- |
| Tuesday | 03.00pm - 06.00pm | Integrated Sports Hall |
| Friday | 01.30pm - 04.30pm | Integrated Sports Hall |
Teachers-in-charge
| Boys Team | Girls Team |
| --- | --- |
| Mr Andy Law (IC) | Mdm Nazrene Akhbar Ali |
| Mr Colin Lee Kuan Wei (2IC) | Miss Parvin Marican |
| Mr Mohamed Riffai bin Maidin |   |
| Mr Chong Hock Boon |   |
Coach
Mr Ryan Ling 
Photos